First Game Studio Investment
Interestingly enough, despite the prolific history and experience of partner Hironao Kunimitsu (founder and Chairman of the gumi game company) in the gaming industry, our fund, gCC has yet to invest in any game title or studio.
The traditional free-to-play, PC, console and mobile games industry has historically been a very tough industry for investors given that it is both a media business and a "hits" business. As such, up to this point, gCC has been investing in horizontal solutions rather than in studios themselves. Examples of this for us have been our seed stage investment into Yield Guild Gaming, or our lead investment into OpenSea's early strategic round.
One could argue that our portfolio company Bling Financial is a game studio. In fact, one could argue that Bling Financial was one of the earliest and is still one of the larger Play-to-Earn gaming studios out there with 6.5M registered users. But the amazing thing about our investment there was that we did an early stage founder bet on Amy Wan and Dan Rice and they actually pivoted into gaming from an earlier business plan focused on Smart Contract infrastructure.
So really to date, despite a great history in gaming, we have deliberately been taking a cautious approach especially to the first-generation blockchain game studios.
So what has changed?
Axie: Play-To-Earn Has Arrived
As of this writing, Axie Infinity alone has over 23M monthly active users (MAU) and about 2M daily active users (DAU). This is in contrast to the MetaMask wallet which has about 10M monthly active users (MAU) as of August of 2021.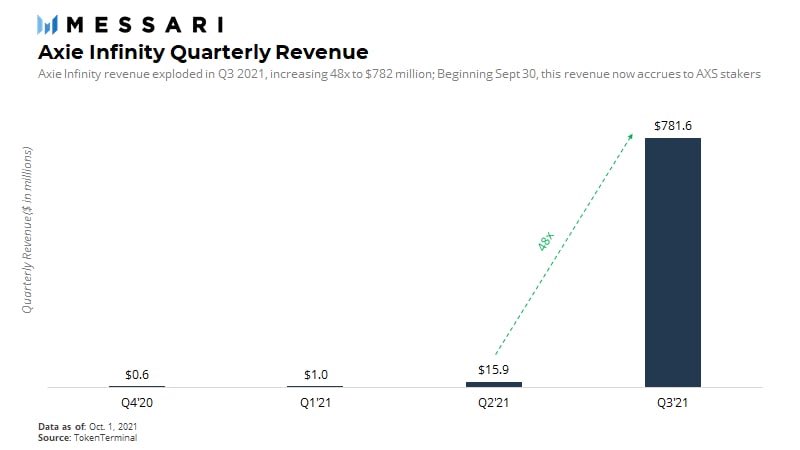 We believe that something fundamental has happened to the entire blockchain ecosystem, and that Axie Infinity is the canary in the coal mine.
Time Investors
We see Axie as representing the fundamental recognition of the sovereign ownership of users over their own nonfungible time. This recognition creates an entirely new class of on-chain economic actor we call "Time Investors".
These actors have nothing to invest but their time, and they may have more time to invest than you.
The existence of time investors makes the entire blockchain a skill game rather than a "pay to win" game.
Yield Guild Games: Multiplayer Economic Metagames
Our seed investment into YGG (Yield Guild Games) was driven by a number of convictions which we blogged about. But one of the many amazing things about YGG is that it solves an incredibly difficult economic problem for time investors. If all you have to invest is your time, how can you possibly afford to buy expensive in-game assets? Enter YGG Axie Scholarship programs that lower the entry bar for pure-play time investors to get into the space.
Perhaps even more importantly is that a person can initially get into YGG by being a scholar and by using their time to grind Axie. But eventually it becomes economically smart for them to move into what a16z partner Jon Lai called the "management sim" game.
This is an economic multiplayer metagame above the base layer Axie Play-to-Earn game. And the management sim metagame is also a skill game (not a pay-to-win game).
But the skill game doesn't end there. Once a YGG guild member becomes a manager, there are other "career" paths they can take into streaming, eSports and even more interestingly becoming a decentralized analyst to the YGG guild treasury–with the mission not to grind Axie but to scout out the next Axie game on behalf of the investment arm of YGG.
This is another lens on what makes YGG impressive as a talent accelerator for time investors.
DeHorizon – Our Investment Thesis
Team 
First and foremost, the team built and led by Shane Zhu was very impressive. Shane previously worked at a VR/AR gaming company that was acquired in 2018, and from our conversations we could tell he had the right modular roadmap (more on this below) to bring a fun game to life. He brought over a lot of the team from another one of his startups, as well as some external members to round out the C-Suite.
What stood out most was that the traditional gaming experience on the team was more than abundant. Todd Porter brought an extensive and impressive 20+ year game background to the team, as a founding producer of Dungeons & Dragons, as well as the world's first MMO game, Ultima. Changtao Zhou had published over 20 titles and was the former CTO and founder of Yoozoo, a $10B+ public company in China with over 20% of the mobile gaming market. Others on the team like Matt Mocarski had worked on World of Warcraft and titles like Candy Crush at mobile gaming company King. The list goes on and on, but this was the type of team we had conviction in to build a high-quality game.
Roadmap
DeHorizon has thrown down the gauntlet as far as roadmap goes. Thus far in "Blockchain Gaming" there have been a lot of pre-selling of NFTs and land sales and much less in the way of shipping playable games. DeHorizon is aggressively raising the competitive bar around how blockchain games will be shipped in the future. Instead of an ultra limited function "minigame" that gets shipped or even no playable game at all (but only sets of trailers that don't feature gameplay), DeHorizon plans to ship complete, playable games, one after the other including a PvP game, an item auction "game", a PvE raiding game, and a resource collection and crafting game, among others.
We see item and land presales as essentially a new form of "kickstarter" in which early supporters can get benefits. But unlike kickstarter, the rewards are proportional to the risk that the early supporters are taking. By launching playable games in rapid succession, DeHorizon will create trust in their ability to ship games and will rapidly increase the value of their network. Once DeHorizon proves this model, the old model of blockchain games gaining nearly infinite runway by pre-selling NFTs and land ahead of shipping any gameplay for years will be dead.
Play-to-Earn projects will earn the trust of their communities by shipping engaging play experiences, and they will relentlessly continue to ship new experiences to keep fans engaged, entertained, and hopeful of the future growth of the value of the network.
In-Game Economy
One thing a lot of games have gotten wrong in the past is token economic design as it applies to the in-game economics and playability (fun) of the game. In the case of DeHorizon, the team developed a well-designed 2-token model using $DEVT (governance token) and $DGT (in-game currency) that doesn't inherit any of the previous shortfalls of other games.
$DEVT is a fairly standard DAO/Governance token that can be used to vote on a variety of aspects in the DeHorizon ecosystem. $DGT, on the other hand, isn't your standard in-game currency. The team thought extensively about the use of the asset in game, how it can be accumulated fairly, and how to combat manipulation of the game (including manipulation with money) to prevent a "play to win" environment from forming. While keeping high level for now (look out for more details from the DeHorizon team over time), the introduction of things like difficulty adjustments for token distribution and dynamic recovery rates of yield producing items will keep the game fun for all and prioritize active, time-spending community members furthering the network over money-motivated extractors. 
Timing 
"Timing is everything" is not an understatement when it comes to game titles in this space. There are many prerequisites the market has been working to satisfy over the last few years, and finally we are seeing an environment that is conducive to success, as is proven by Axie. Yes, first and foremost you need a great team, as explained above. But you also need 2 other key parts: Infrastructure and Players.
With the availability of Layer 2s, scalable layer 1s, and the ability to create your own gaming-specific sidechains, we now have the infrastructure that can support gaming for the masses (note: more work needs to be done for UI/UX to go "mainstream"). Axie proved out the latter model of building your own side chain with Ronin, which supports millions of players a day. DeHorizon has elected to go this route, which will allow them to provide a great player experience as they scale. Many games may also go multichain, and having that optionality is valuable as playerbases expand.
Another problem the market has solved is bringing in players early on. Just like DeFi Protocols need liquidity to bootstrap their economic networks, games need players to bootstrap their in game economies. By having YGG become a partner and investor early on, DeHorizon will be able to source players from a dedicated guild and bootstrap their sophisticated in-game economy.
Conclusion
Given the deep conviction in the team and their modular roadmap, we were convinced DeHorizon would build a fun game and bring it to market correctly. Layer in their well-designed token economic design, and pair that with the right timing from an infrastructure and player bootstrapping perspective, and DeHorizon became our first game title investment. 
As we look ahead and participate in the exciting rise of Play-to-Earn gaming, we plan to back many more titles in the near future. If you are building a game or have a studio looking to build in this space and need help with gamification/gameplay design, in-game economic design, finding game talent, or bringing your game to market, among other gaming functions, gCC is your perfect partner, so please reach out to us.